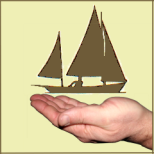 BACK TO FULL LIST OF PROJECTS
Centreplate uphaul/downhaul, renovating
(this page)
Back to Home page

Repair and Maintenance of a Drascombe Lugger
---
Renovating the centreplate uphaul/downhaul
This page describes how the arrangement of the blocks, shackles, bullseye fairlead and cleat controlling the uphaul and downhaul of the steel centreplate on the Lugger were modified to improve operation. This involved some experimentation until a final satisfactory arrangement was achieved. The original Clamcleat for cleating the uphaul at the back of the centreplate was losing its grip on the rope, so I decided to replace it with a Pillar Cleat.
How the centreplate works
Diagram showing how the centreplate works

The diagram shows the basic mechanism controlling the Lugger steel centreplate. The centreplate is hooked by means of a slot onto a 12 mm diameter pivot (shown as a red dot), which is fixed across the bottom and towards the front of the centreplate case. A 12 mm thick control rope is attached to a becket on the lower single block and passes up and aft, through a slot cut into the front of the centreplate case, and around the upper single block. A stout shackle connects this block to the plate arm. From here the control line passes forward and down, round the lower single block (anchored to the hull), and then passes aft via a bullseye fairlead on the side of the centreboard case, to a cleat (not shown)

(Click on image for animated view)
Repairing wear and tear
On Sospiri The original steel shackles were very rusted and the pulley of the tufnol block attached to the centreplate arm was splitting. The following photographs show the extent of the problems and how the whole system was renovated and repaired.
The original uphaul downhaul tackle

The large steel shackle attached to the arm of the centreplate has become very rusty. Inspection of the associated tufnol block revealed that the pulley had split and was on the point of falling apart. The steel shackle anchoring the other tufnol block to the bottom of the boat was so rusted that it had to be removed with a hacksaw.

(Click on image for larger view)

Top shackle and block replaced but still not quite right ...!

This photograph shows the replacement stainless steel top shackle and a new block replacing the damaged tufnol unit. However there is still a problem with the ropes leading between the two blocks either jamming and chafing in the centreplate case capping slot (as shown in the photograph), or else chafing the end of the teak capping.

(Click on image for larger view)

A twisted shackle provides the solution

The bow shackle attached to the arm of the centreplate was replaced by a stainless steel twisted shackle (shown in plan view in this photograph), and this immediately solved the problem with the ropes neatly contained within the slot of the capping.

(Click on image for larger view)

Side view of arrangement shown above showing replacement fairlead on strengthened GRP centreplate casing

This side view clearly shows the advantage of using a twisted shackle attached to the arm of the centreplate. The lower block (not clearly visible in the photograph), can swivel allowing the rope to auto-align for the bullseye fairlead on the side of the centreplate casing.

The original bullseye fairlead bolted to the side of the centreplate casing was worn (chafed by the rope), and had become loose. Furthermore the surrounding GRP had become cracked because of the stress applied to the fairlead when the uphaul down haul was in use. The solution to this was to unbolt the fairlead, abrade the underlying GRP and re-inforce the area by making a GRP reinforcement pad. This was then glued in position with West Epoxy (mixed with 404 filler), on to the side of the case. A replacement fairlead with a stainless steel insert was then bolted on to the new pad.

These modifications have greatly improved the functionality of the uphaul and there should be no further stress cracking of the GRP in the vicinity of the fairlead.

(Click on image for larger view)
Project started June 2002 and completed July 2002