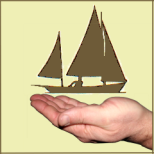 BACK TO FULL LIST OF PROJECTS
Rudder rest, making
(this page)
Back to Home page

Repair and Maintenance of a Drascombe Lugger
---
Making a Rudder Rest

One of the trickiest manouvres in a Lugger involves beaching under sail. The main problem is the heavy galvanised rudder with attached tiller which has to be lifted clear very quickly at the last moment and a place found in the boat to accommodate its awkward shape.
The biggest pain is lifting out the rudder completely and it is well worth either making or buying a Rudder Rest so that the rudder need not be removed from its trunk. The Rest works as follows;
Assuming a kick-up rudder, it is lifted up until the cheeks are just above the slot in the teak rudder trunk capping, then the rest is slid in from behind. The rudder cheeks are then lowered onto the rest which supports the rudder so that the blade is fully retracted in the trunking. This leaves you free to forget about it and concentrate on more urgent matters!
If you cannot make this from the following instructions, ready made Rests can be purchased from Stewart Brown at Churchouse Boats. See under 'Rudder Stowage' on the 'Spares and Accessories' section of his website.
What does the Rudder Rest look like?
Photograph showing the top view of the Rudder Rest

The Rudder Rest as shown here is constructed of teak. The photograph shows the top view of the Rest with a slot which is just wide enough for the blade of the rudder and also just long enough to accommodate the length of the blade below the rudder cheeks.

(Click on image for larger view)

Photograph showing the bottom view of the Rudder Rest

Photograph showing the bottom view of the Rudder Rest. The narrow piece of wood running along the centre of the Rest is designed to fit into the slot in the top of the teak rudder trunk capping.

(Click on image for larger view)

Photograph showing the Rudder Rest in use

Photograph showing how the Rudder Rest is deployed. The rudder has been raised in its trunk so that the cheeks are just above the teak capping. The rest is then slid underneath and either side of the top of the exposed rudder blade. The lower part of the Rest drops down into the slot in the teak rudder trunk capping. The rudder can then be lowered until the cheeks are supported on the rest. In this position the bottom of the rudder is completely withdrawn within the hull and the boat can be beached safely.

The Rest is also useful when launching from the trailer as the rudder can be stowed in the 'up' position whilst the boat is still on the trailer, and is available for immediate use after launching, simply by removing the Rest and lowering the rudder.

(Click on image for larger view)
Construction details
Sketch showing construction details of the Rudder Rest

The Rest is made from two pieces of hardwood. I had some scraps of teak salvaged from a split centreplate trunk capping which were ideal for this project. Iroko or Mahogany would probably serve just as well.

The two pieces of hardwood are marked and cut out using a jigsaw to the size and shape shown. The smaller of the two pieces is designed to fit into the slot of the teak rudder trunk capping. Both pieces of wood have a 6 mm wide slot which is just wide enough to accommodate the blade of the rudder.

After cutting to size, the two pieces of wood can be carefully lined up and glued together. I used West Epoxy with 404 powder additive which makes a very strong glue. For good measure I also used two stainless steel screws the tops of which were plugged.

(Click on image for larger view)
---
Project started and completed July 2003
Appendix
The following additional modification makes the rudder rest more hard wearing
Added Protective Metal Strips

To avoid the metal cheeks of the rudder wearing away the wooden top of the rudder rest, two metal strips have been screwed either side of the slot. The stainless steel metal strips made by RWO (Part No R2280), are ideal for this purpose. The strips are 19 mm wide, 203 mm long, 1.6 mm thick and have five 5 mm diameter fixing holes. They are attached using ten No 10 self tapping screws, slotted pan head, 12 mm long.

(Click on image for larger view)
---
Appendix added May 2008