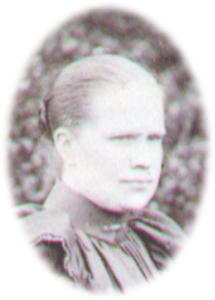 Mary Logie Pettigrew (about 1891)
Biographical notes
Mary Logie, named after her grandmother (mother's mother), was the first of the Pettigrew children born in Buckinghamshire whilst Andrew was working at Richings Park. She never married and when her younger brother Andrew Alexander was appointed as Chief of Parks at Cardiff in 1915, she became his House Keeper at Roath Park House. She remained thus until her death in September 1933 at the age of 70. She was interred in Cathays Cemetery, Cardiff, in the same grave as her two sisters Elizabeth Kennedy and Agnes.
I am most grateful to Pamela Ross for the following information: "I have been researching my family history - this includes McKinnons (my greatgrandmother's first husband was her first cousin once removed, Alexander McKinnon). Alexander's brother Neil married Ann Allan and was a gardener in Ayrshire. Their sister Isabella married a Donald Cameron, and lived in Renfrewshire before moving back to Bute. In 1881, as a widow living in Renfrewshire, she has with her an "adopted child", Henry M Pettigrew, born in Glasgow in 1880. Having looked up the birth, he was born to Mary Pettigrew - usual domicile Castle Gardens, Cardiff, mother Agnes present at the birth. Sadly, Henry died aged 2 of scarlet fever, living at 24 Bell Street in Renfrew. I don't know if you knew about this Pettigrew, but presumably this was something organised through the family, to take care of the illegitimate child."
"You probably know that often, children born illegitimately were given an indication of the father when they were named.  I have discovered that in the 1881 census there is a Henry MacKay, aged 22, unmarried, an ironstone miner, living with his widowed mother at Ochiltree, which is very close to Dumfries House.  One has to wonder, is this the father of little Henry?"