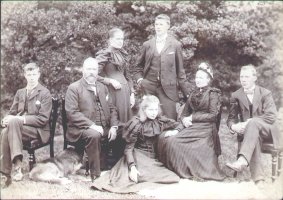 The Pettigrew Family, probably in the garden of their home in Cardiff, about 1893. Left to right; Andrew Alexander Pettigrew, Andrew Pettigrew, Mary Logie Pettigrew, AgnesPettigrew, Hugh Allan Pettigrew, Agnes McLelland Pettigrew and William Wallace Pettigrew.
Biographical notes
The first 'official' family record is provided by the Census return for 1871, ten years after the marriage of Andrew and Agnes. At that time Andrew was employed as Head Gardener for the Marquis of Bute at his substantial mansion Dumfries House. The Pettigrews were living in the Gardener's Cottage in the grounds of Dumfries House and the household consisted of Andrew (Gardener Domestic and Servant), aged 38, his wife Agnes (38), his daughter Mary L. (aged 8, a scholar), Elizabeth K. (aged 6, a scholar), William W. (aged 3), Hugh A. (aged 2 months). Also recorded is Elizabeth M. Morton (16), a General Servant, Domestic).
Ten years later in 1881 Andrew's employer, the Marquis of Bute, had moved him and his family to Wales to look after the Cardiff Castle Gardens and develop vineyards on the Bute Estate. The 1881 Census shows them living at Castle Gardens, 2 North Road, Cardiff. Andrew is 48 and described as Domestic Gardner (to Lord Bute), Mary is 18, Elizabeth K. (16), William W. (13, Scholar), Hugh A. (10, Scholar). Agnes Pettigrew, the last of the Pettigrew children, was born at the Castle Gardens residence and was aged 3.
The 1891 Census shows the family still at the same residence but significant changes had occurred. William is no longer shown and the Census shows him working as a Domestic Gardener at Culzean Castle, Ayrshire. The most significant absence was that of Elizabeth Kennedy who had died aged 20 in 1885.
In 1901 the Census shows the final record of the family. They are still living at the Castle Gardens, Andrew (67) is still employed as Domestic Gardener, Agnes his wife is aged 67, Mary 38. Daughter Agnes is absent and we know that she had died in 1894 at the early age of 17. This must have been a terrible blow to the Family following the early death of their other daughter Elizabeth Kennedy 9 years earlier. William is also absent and was living with his wife Ruth at Roath Park in Cardiff. We also know from the Census that Andrew Alexander was working as Head Gardener at Hewell Grange near Tardebigge and on the night of the Census, his brother Hugh Allan was staying with him as a visitor.
Andrew Pettigrew died in 1903, and afterwards Agnes moved to St. Fagans to live with her son who was Head Gardener at St. Fagan's Castle. She remained there until her death in 1905.
The photograph is a rare one showing all the members of the family together. Elizabeth Kennedy Pettigrew had died in 1885 and sadly Agnes died in 1894, not long after this photograph was taken in 1893.