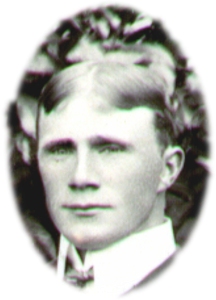 Hugh Allan Pettigrew (1900)
Biographical notes
Born in Scotland at Garden Cottage (Dumfries House) in 1871, Hugh Allan Pettigrew may have been named after his mothers brother (Hugh Logie Allan). HAP followed his father, Andrew, into gardening. After working for his father at Cardiff Castle, he went on to train at Kew Gardens. In 1897, Hugh was appointed Head Gardener at Hewell Grange at Tardebigge in Worcestershire, working for the Windsor - Clive family who eventually became the Earls of Plymouth. In 1900 the Plymouth's appointed him as Head Gardener at St Fagan's Castle (near Cardiff).
Soon afterwards, in 1903, he married Alice Southwell Cardell and they had a family of two daughters (Lorna Southwell in 1904 and Agnes Allan in 1909), and one son (Andrew Hugh in 1912).
Throughout his life he was a very keen cricket player and there are numerous family photographs of him playing in the St. Fagan's village team. In 1927 he was presented with a silver salver in recognition of his 28 years as Honorary Secretary to the team.
He retired from St Fagan's in 1935 and the couple settled in Nice where, apart from a brief interlude during WW2, they lived until Hugh's tragic death in 1947. Following his usual routine of walking to collect the morning breakfast rolls from the local boulangerie, he was knocked down by a police car and received fatal injuries. Alice moved back to England, living in close proximity to her two daughters Lorna and Agnes and eventually died in a care home at Wood Green in 1960.